Description
Product Description
Build Your Champion Soccer football Skills FAST!!!
Size 3 Soccer Training Ball for Players Aged 3 to 11 years.
IMPORTANT Message to Customers – There is still plenty of time to order a Training Ball for Christmas. Postage Included in Price 
All orders EXPRESS POST Last Day  Wed 19 Dec 
Delivery time – 1 day most Cities, 2 days most Towns, 3 Days small towns or remote locations.
Play, Win, Enjoy!
For Players age 3 to 8 years
Practice Kicking for Goals, Passing, Catching at Home or in the Park
Practice ALL the skills required to be a Great Player
The Soccer Training Ball will NOT go over the Fence
The Training ball will NOT go on the Road
A training ball is a vital piece of Soccer Training Equipment
The BEST… Football Gift for any Boy or Girl who play soccer
The DELUXE Pass Master Soccer Ball is fitted with 2 x swivels to stop any bungee cord twisting.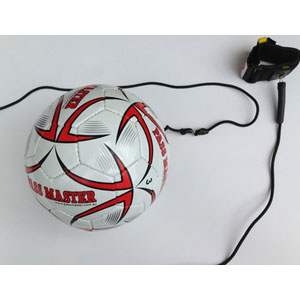 The Soccer skills training football, has been designed to help master the different skills a player needs to play soccer. For young children, this ball will HELP them Develop their Hand/Eye Coordination, Confidence and their Sensory Coordination Skills, such as kicking, passing, throwing and dribbling.
Practice your kicking, kicking for goal, passing while on the run, heading the ball, as well as many other soccer ball skills. This is a brilliant way to increase your total all round soccer skills. Football Coaches should be including this ball as a necessary item in the soccer training equipment purchased for their clubs.
Coaches, if you want to see Quick Results… this ball is going to amaze you. Parents will be praising you and players will Thank You.
The Training Ball comes with the bungee cord attached with 2 x chrome plated swivels and comfortable wrist band. Cord measures 1.8m and will stretch to 4.7m.
The Benefits of the Soccer Skill Training Ball:
Soccer Training Ball, will NOT go over the Fence… or on the Road
Practice throwing the ball in with power and accuracy
Dribbling and kicking for goals with power and accuracy
Kicking out from goals
Goalies quickly develop impressive catching and kicking skills
Players quickly increase their skills on their own
Increase players skills means increased player confidence
Coaches will be Amazed how quickly a players skills increases
Fantastic coaching tool!!!
Best Gift for any Kid playing Soccer
The Pass Master Soccer Training Ball comes in 3 x Sizes:
Size 3 

Ball

is the smallest official ball used by  U-6, U-7, & U-8: Its the official soccer ball for toddlers and young children.  Circumference of 23-24 inches & weight of 11-12 ounce.

Size 4 Ball

is used by U-9, U-10, & U-11: Standard soccer ball for kids aged between 9 and 11 years old. It has a circumference of 25-26 inches & weight of 11-13 ounce.

Sze 5 Ball

is used by U-12, U-13 & up: The regulation size soccer ball, size 5, is played by youth players when they reach the age of 12. Size 5 is also the ball used in high school soccer.
High quality hand stitched ball made of 3 ply, 2.5mm cushioned PVC synthetic leather ball with Butyl Bladder for longer air retention. Attached to the soccer ball is a length of durable high quality bungee cord with 2 x chrome plated swivels fitted between the comfortable wrist strap and the ball. This will stop any twisting of the cord.
Size 3 Soccer Training Ball, makes a Idea GIFT for any Soccer Player
PRICE INCLUDES SHIPPING WITHIN AUSTRALIA
INTERNATIONAL CUSTOMERS WELCOME