Showing 1–16 of 18 results
The Best Selling, Australian Rules Training Football and Perfect Gift
Want to be the Best Player?
Transform your football skills Fast, with the Ultimate AFL Training Ball
.
The Mark Master Training Ball, allows a player to practice the skills required to play aussie rules football – AFL.
If your learning to play AFL football for the first time, then a Mark Master Training Ball is a Must Have… Its a Fantastic Training Tool.
There is no need to drag brothers, sisters, Moms and Dads or friends to the park to have a kick.
Instead you can spend hour after hour, day after day, honing your football skills at home..
The BEST Selling Training Ball by far in 2018 is the Size 4 AFL Mark Master training ball, which is the Women's Size football and the Boys Teenage size football.
Auskickers, Junior and Senior AFL footballers – will gain more Confidence, Skills and Enjoyment, when they have used the Mark Master AFL Training ball.
Invest in your health, happiness and sporting success…
The Aussie Rules – AFL – Mark Master – Training Ball
Australian Designed & Australian Owned
That Training Ball has the Largest Range of training balls in world. All sizes of Aussie Rules Training Ball to suit your needs. Size1 to Size 5.
The Mark Master Training Ball is also perfect for those who have to limited space to play in.
The wristband is attached to the wrist.
If you Kick with your
Right Foot
, then the wrist band is placed on the
Right Wrist.
If you Kick with your Left Foot, then the wrist band is placed on the Left Wrist.
Players can train at home or in the park. The Training Ball will not go over the neighbour's fence or go on the road. Mark Master is Perfect for small yards or unit balconies.
Learn these Football skills with the AFL Training Ball:-
Learn to Kick Left and Right footed
Learn to Handball
Learn to bounce the ball (some players find this difficult to master)
Learn to Mark the ball
Learn to kick and mark the ball while on the run
Increase your reaction speed
Increase your confidence
Players should be able to slowly increase their AFL football skills to the level where they are able to bounce, kick, mark and handball while walking.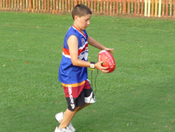 When they have mastered these skills while walking.
Then move to the next level.
Try Running, kicking, handing, and bouncing the ball while running. Bouncing the ball, kicking the ball and then marking the ball on the run.
When players have reached this skill level, then Mark Master AFL Training Ball has done it's job….
What our customers say:

AFL Training Ball

Thanks – my life is so much better now I don't have to worry about my son kicking the ball on the road. My daughter even bruised her foot as she kicked the footy non stop for the remainder of the weekend.

– Lee McCulloch Auskick Coordinator
The Mark Master AFL Training Footballs comes in 4 different sizes. We know your going to like these training balls once you see the Amazing Results.
If your not 100% sure that the Mark Master Training Ball meets your expectation to Improve your football skills, confidence, hand/ eye co ordination for the person that it is intended to use the ball.
If you don't see a noticeable difference in your child's football skills, let me put you at ease with my unconditional guarantee.
I will Instantly send you an immediate refund… on return of the ball in good condition. Its that simple.
The company increased its focus more towards junior football clubs across all codes of football. AFL, Auskick, Soccer, Rugby and Rugby League.
Many clubs during 2017 requested thattrainingball make a visit to their clubs on training nights or on game day. This allows the clubs have something different that caters for the players and mums & dads on game day. Mums and dads get to see and touch and even use a training ball before they buy one.
Players get to use the demo balls we have. Within minutes, parents can see a change in their sons or daughter's Reaction Times, Confidence and Football Skills. It's normal to see a suddenly increase in skills… even after using the training ball for just a few minutes.
Parents see first hand, a product that works. It's so simple and easy to use, that's why we at that training ball, believe in our training balls.
A training ball allows a new player to quickly develop fantastic football skills in just a matter of minutes. That's great for the player, perfect for the coach of the team and fantastic for the club. Players gain more
This is where a Mark Master AFL training ball works so well for those New Players and takes the pressure off the coaches of these clubs. The players can practice at home or in a park and quickly gain those most vital skills needed to play Aussie Rules Football. A player will learn very quickly to Kick, Catch, Bounce and Handball an Aussie Rules Football.
Australian Rules football is the one of the most popular games played here in Australia, especially in the southern states. Children and adults of all ages play this iconic game, whether it be for fun or in a competitive league. No matter what stage of development you are at, there is always room for improvement when it comes to core skills such as kicking and handballing. We offer a range of AFL training balls that provide the perfect way to practice these skills anytime, anywhere.Our training balls are more than just an AFL ball on a string – they are a legitimate way to practice and improve your skills. We have provided many demonstrations at footy clubs around the country, and coaches have been very impressed with just how quickly a child can improve with a little help from an AFL training football.
This fantastic product comes in a range of difference sizes to suit varying ages, from little Auskick champions, right through to the big kids who are looking to make their passion a profession. There are many advantages to training with an AFL ball on a string. Being attached to your wrist, the ball cannot go over the fence or out on the road, eliminating the need to climb over the neighbour's fence or dodge cars.Our authentic AFL training football is made from high quality 3 ply PVC, making it water resistant and extremely durable. If you would like to know a little more about how this product works, make sure you take a look at our videos.